Mons. DIEGO GIOVANNI RAVELLI, Master of Apostolic Ceremonies

Papal Masters of Ceremonies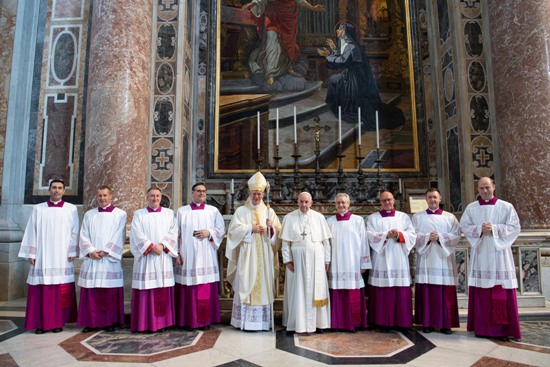 | | | |
| --- | --- | --- |
| Mons. | | Pier Enrico Stefanetti |
| Mons. | | Marco Agostini |
| Mons. | | Massimiliano Matteo Boiardi, F.S.C.B. |
| Mons. | | Ján Dubina |
| Mons. | | Krzysztof Marcjanowicz |
| Mons. | | Ľubomír Welnitz |
| Mons. | | Cristiano Antonietti |
Officials
| | | |
| --- | --- | --- |
| Mons. | | Ján Dubina |
| Mons. | | Ľubomír Welnitz |
| Rev.da | | Sr. Maria Pia Morigi, P.D.D.M. |
| Rev.da | | Sr. Maria Priscilla Laureti, M.D.R. |
| Sig. | | Giuseppe Passeri |
| Dott.ssa | | Chiara Maragoni |
| Dott.ssa | | Chiara Rocciolo |

Responsible of the Papal Sacristy
| | | |
| --- | --- | --- |
| Rev. | | P. Bruno Silvestrini, O.S.A., Custode del Sacrario Apostolico |
| Rev. | | P. Olivier Gangola Bawa, O.S.A. |
| Rev. | | P. Dipi Kattathara Peter, O.S.A. |

Consultors
Rev.
P. Corrado Maggioni, S.M.M.
Rev.
P. Giuseppe Midili, O. Carm.
Mons.
Angelo Lameri
Rev.
Pietro Angelo Muroni
Rev.da
Sr. Katia De Simone, E.F.
* * *
Organist of the Papal Liturgical Celebrations
Mr
Josep Solé Coll
Mr
Juan Paradell, organista emerito
Mr
James Edward Goettsche, organista emerito
The offices are situated in the Apostolic Palace: 00120 Città del Vaticano, (tel. 06.69.88.32.53; 06.69.88.52.64; fax 06.69.88.54.12).

Mons. Master of Apostolic Ceremonies is resident of 00120 Città del Vaticano.